Dave Dickey Big Band is an 18 piece jazz big band featuring many of the top jazz musicians and educators from the St Louis, Edwardsville, Springfield MO, Columbia, Jefferson City, and Champaign-Urbana, IL.  Everytime the band performs public performances, a different middle school, high school, or college jazz band is invited to play intermission and the last set several of their students sit in the sections with the Dave Dickey Big Band and also get to solo.  The band is also available for private parties, corporate events, and wedding receptions.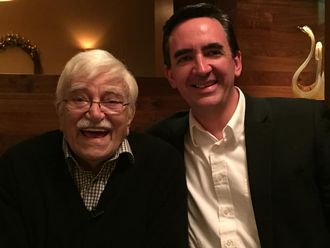 We are excited to announce the Dave Dickey Big Band will be a part of the Sammy Nestico Documentary "The Shadow Man"!  On Sunday April 2 we will have a special public performance at The Grandel Theater in St Louis.  We will have a high school big band and the Dave Dickey Big Band performing Sammy's music, including swing dancers dancing with the Dave Dickey Big Band on stage!  We will also have guest speakers Shirley Nestico (Sammy's wife), Diane Estelle Vicari, and other guests!  Clips of the Sammy Documentary will also be shown.  Check back to this website for more information about April 2nd.  Save the date!
New big band chart from multi Grammy-nominated Steve Wiest!  "Baseball Dave" was composed to feature Dave Dickey on the trombone with his big band.  Steve and Dave share a love for baseball and talk frequently about baseball.